Khyati & Sohil
March 3, 2022
Would you ever decide to get married to someone on your first date?
Well, that's the offbeat story of Khyati and Sohil finding love in the Pandemic. While Sohil was always clear that his better half should have a similar education background; It was Sohil's mindset and intellect that got Khyati attracted to him. Some call it destiny others call it match-making; through an arranged setting they both found love in a pandemic. For us, these two people defined 21st-century love that is beyond all material world of physical appearances and romanticism.
Khyati is a vivacious bundle of energy and a meticulous planner; right from the very first call she had clarity on all the aspects. Sohil's enthusiasm was extraordinary; A perfectionist at heart he was always ready for getting photographed or trying out a video transition.
Our favourite part was undoubtedly Khyati's proposal. Khyati was clear that she wanted Sohil to experience the unfiltered beauty of Mumbai with its skyline and ocean. It was a unanimous YES when we asked them to walk through Mumbai slums for an hour to get a clear view of the city. They were different and believed in breaking traditional norms. That "putting a ring on it" moment felt so surreal, It's definitely a memory that we would all cherish for years to come. Khyati went on her knees to propose to Sohil in front of Worli sea link with an open ocean under the setting sun.
Thank you Khyati and Sohil for trusting us with your best moments. It was a truly enriching experience working with you two.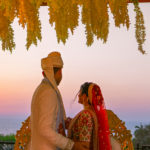 Next post Saanchi & Vivek