Sharon & Plato
February 26, 2022
Sharon & Plato are the most joyous and party-loving people; this wedding had all the key elements right from fun, drama, dancing, and above all LOVE. We could not have asked for any better Kickstarter for a wedding season post the global pandemic and 8 months long lockdown.
It was our first experience at a Konkani Christian wedding. #plaron's intimate wedding began with a church ceremony followed by a crazy afterparty. And they have very similar traditions as of Jewish weddings. Both widely use handkerchiefs in the dancing ceremonies. While chair dance signifies good old traditions; chairs are considered as a royal throne and the bride & groom are compared to a queen & king. The rise of new media has only made the world a global village. At this wedding, we visualized the wedding industry in a new light as the pandemic re-introduced virtual weddings like never before and a lot of people joined into this wedding virtually from across the world.
The most memorable moment from this wedding had to be Sharon & Plato's entry to their reception. They were not walking but legit dancing to the tunes of Jerusalema (viral Instagram reels song). Dancing with the feet is one thing, but dancing with the heart is another; #plaron you leave us nostalgic with your Christmas wedding.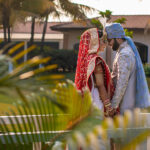 Previous post Shikha & Raj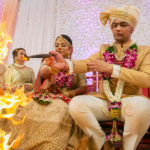 Next post Krupa & Madhur