Krupa & Madhur
February 25, 2022
Little bit of sugar, little bit of ice, heart of an angel and soul of a child, That's our bride. Calm as the sea, poised as yogi and obedient son, that's our groom.
Madhur and Krupa's story is like a roller coaster ride. It was their families who conspired to make Madhur & Krupa one. From grand mom's to youngest cousins in the family everyone used to tease them and wanted Madhur & Krupa to get together. While families were all agreed Krupa wouldn't like his boss to be his life partner. After rejecting each other three times they ended up falling in love with each other. They were poles apart. But haven't we heard of opposites attract? Same happened with Krupa & Madhur as well.
It was a festival of hearts! When we say festival, we don't say it relatively but literally, as this wedding gala was spread over 5 days. Friends, fun, and most importantly family – it was all entwined together. But nothing could win over the shine that the lovely couple exuded together.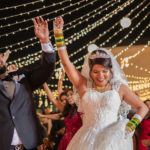 Previous post Sharon & Plato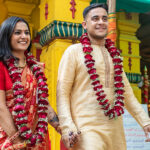 Next post Nikita & Devarsh